Westport Alumni: Where are they now?
We here at the high school have started an initiative with former student Chris Rosa. He is a graduate of 2010. He is willing to work with students who are not connected to the school.
Chris was Athlete of the Year in 2010-he played soccer, basketball, and baseball for Westport High School. Baseball was always Chris's passion. After Westport, he went to Massasoit Community College and then Bluefield College. Chris was scouted by several teams. He played AACBL baseball in North Carolina for three years and then an injury to his arm halted his professional baseball plans. Since then, Chris has been a personal trainer and is currently preparing for the Civil Service exam for Massachusetts State Police. He is also a WBFF Pro Fitness Body Builder.
Chris is extremely interested in working with students on physical and mental health. He struggled academically in school but never let that stop him. He has always been a gentleman on and off the field or court.
We are gauging student interest in working with Chris and guidance. Chris will combine his life experience with his physical prowess to help students make healthy lifelong decisions.
This is Brandon Torres. He graduated in 2010 went on to the University of Rhode Island and graduated with a Pharm.D degree. He is currently a pharmacist at Brockton Hospital and Saint Anne's Hospital. While a student at Westport High School, Brandon played soccer and was part of the co-op track team. He was also a member of the National Honors Society and an AP and Honors student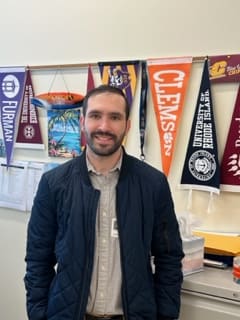 This is Thomas Brown he is a graduate of Westport High School Class of 2019 and attended Brown University. He has been accepted to 2 medical schools: Tufts University and the US Military's Medical School for the Air Force. He is awaiting others.

Thomas has been conducting cancer research at Brown's Legorreta Cancer Center and his first manuscript was submitted to the American Journal of Cancer Research this December. He has also been volunteering in the Emergency Department at Charlton Memorial Hospital.
This is Allyson Duarte, a graduate of Westport High School and Boston Conservatory, o recently visited our Middle School Drama Club. Allyson talked to our students about her journey from a middle school student on our stage to her current role as Jellylorum in the North American Broadway Tour of CATS. Thank you so much for taking the time to visit with our students Allyson! We can't wait to see you perform on March 4 at the Palace Theater in Waterbury, CT.
Where are our Westport music graduates now? Jon Boutin studied trumpet with John Furtado and Jack Martins. He graduated in 1998 from WHS when Scott Frost was in charge of the music program. Jon was a member of the marching band and jazz band. He is a graduate of Berklee College of Music in Boston.
Since 2011 Jon has been living full time in Germany and has been working as a freelance trumpet player/singer. He plays many different styles (pop, rock, jazz, classical, music theater, etc.). His main job for the last ten years had been with the German rock band BROILERS www.broilers.de This past summer they had a fantastic tour, and played to sold out audiences of up to 25,000+ people. It was an amazing summer.
Jon also works regularly for recording projects with various artists, as well as television productions. Aside from his freelance schedule, he also has his own band, and projects. Earlier this year, he released his first studio album entitled "Finally" and is quite proud of it! https://open.spotify.com/album/77dMFFeJMF6gW43t59GHgn
In August he released a video tribute to musical hero Billy Joel. https://youtu.be/L1wdGlvGzMc
You can find more material and information on his website www.jonboutin.com
In Jon's words..."The public school music program in Westport was hugely beneficial for me, and I very well may not be a professional musician without it."